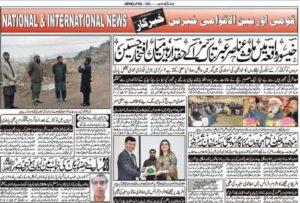 Muhammad Qasim's 4th interview was published in the Pakistani Newspaper Daily Khabarkar in Pakistan. Qasim reiterated that until and unless shirk(polytheism) and its forms are completely eliminated, Allah's help will not arrive. We will remain lost in the darkness and we will not progress.
"Black Fighter Jets will defend the borders of Pakistan and the BFJ will be the most advanced aircraft of the world and they will be unbeatable." Muhammad Qasim Ibn AbdulKarim
To learn more about how we can earn Allah's (SWT) help and about the black fighter jets, check out the interview here.